"Life moves pretty fast. You don't stop and look around once in awhile, you could miss it." - Ferris Bueller
Monday, November 29, 2004
Thanksgiving Recap
Profuse apologies for the lack of posting over the holiday weekend. Most of my rather large family made themselves welcome at the Cordeiro Homestead and it was all I could do to make sure my house was still bolted to the foundations upon their departure.
I really like Thanksgiving. It is one of the truly American holidays about which the rest of the world understands very little - and I'm alright with that. Families gather from near and far to indulge in the Turkey day rituals. Much turkey is consumed, and football is played by those who would be safest watching it from the stands. I'm sure ERs around the country are filled with ankle and knee injuries sustained by wannabe Heiseman candidates.
And no, I'm not talking about the lack of football prowess made clear by the Dallas Cowboys.
This Thanksgiving also marked the passing of a modern American hero. Johnny Micheal Spann died on November 25, 2001.
Much time has passed since then, so I'll understand if that name doesn't ring a bell with you. Mike Spann lived a life that was spectacular to those people who actually knew what he did for a living. To those who did not need to know, he was just another ordinary guy. That's all part of the job description for an Operations Officer working for the CIA's Directorate of Operations.
You see, Mike Spann was the first casualty sustained by the United States in response to the events of September 11, 2001. Mike's boots were some of the first on the ground in Afghanistan. As a former Marine, combat operations were ingrained in Mike like driving is for most of the rest of us. His country called, he answered. It truly was that simple.
He was killed in action during a prison riot. The CIA broke a long standing tradition of secrecy in releasing some of the details surrounding his death to the public. His is one of the
83 stars
adorning the CIA Memorial Wall at Langley. As a fallen Marine, he more than earned the right to be buried along side this nation's honored dead at Arlington National Cemetery.
As part of my Thanksgiving, I made a pilgrimage to Arlington. Mike's grave can be found in Section 34, Grave Number 2359. It sits on a slight rise overlooking the Pentagon and Northern Virginia. It is a fitting place for a hero.
This Thanksgiving, I give thanks for all those who defend this great nation at home, and abroad - especially those who have given the last full measure of devotion to their country.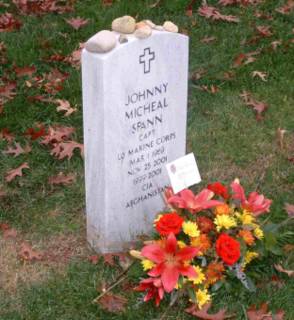 Blessed are the Peacemakers, for they shall be called the children of God.
"Let me not mourn for the men who have died fighting, but rather let me be glad that such heroes lived." - Lt. General George S. Patton
Here endeth the lesson.